A video of two alleged drug addicts engaged in a dangerous knife fight in the middle of the street in Tondo has gone viral, with many netizens outraged by the actions and behavior of the two men.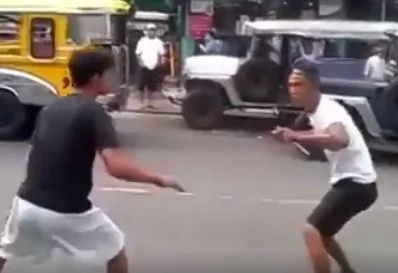 The video shows both Tondo residents holding knives with the other one holding an extra weapon – a steel object on his other hand. They could also be heard swearing at each other.
Tondo: Dalawang adik nag saksakan sa daan dahil sa onsehan sa droga
Like ✔ Tag ✔ Share ✔

Posted by Pinoy Trending Videos on Wednesday, September 21, 2016
The two repeatedly tried to stab and slice each other with their knives as the witnesses scream their lungs out due to their fear for the young men's lives. Some of the people could also be heard begging the men to stop fighting while others tried to stop the fight by pretending that the police are already in the area.
One of the alleged drug users was wounded with the knife as the person who was taking the video expressed his shock at what was happening. The video ended after one of the fighters was wounded, and many netizens are wondering what happened to the alleged addicts.